Standard & Poor's downgrades outlook for HSBC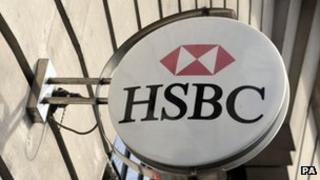 Ratings agency Standard & Poor's has downgraded its outlook for HSBC Holdings from stable to negative.
It fears US money laundering investigations could lose the bank business in the long-term.
HSBC has already set aside $700m (£442m) to cover potential fines for channelling funds from countries such as Iran, Mexico and Syria, in breach of US anti-money laundering regulations.
In July, HSBC apologised to a US Senate committee for its behaviour.
In a statement, S&P said: "In recent months, the HSBC group has been censured by its regulators and other authorities for alleged control failings, notably with regard to US anti-money laundering standards.
"In our view, these issues may carry some specific negative rating implications for HSBC."
A spokesperson for HSBC told the BBC: "We have nothing to add to our statement made on 30 July within our interim report. Discussions with US authorities are continuing."
HSBC had previously admitted to the US Senate's Permanent Subcommittee on Investigations that its "compliance and operational controls should have been more effective, most particularly in Mexico as we integrated and expanded the bank we acquired in 2002.
"As a consequence, we failed to identify or deal adequately with unacceptable behaviour."
HSBC, Standard Chartered and several European banks have been under investigation by US regulators such as the Treasury Department's Office of Foreign Assets Control, the Federal Reserve, the US Senate's Permanent Subcommittee on Investigations, and Manhattan District Attorney, Cyrus Vance Jr.
Standard Chartered has already agreed to pay $340m to New York authorities to settle its case.