Billabong swings to annual loss as it restructures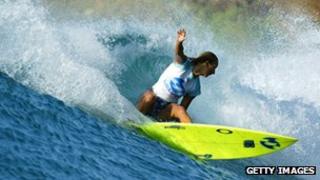 Surfwear company Billabong has reported its first annual loss since 2001, as it restructures its struggling business.
Billabong reported a full year loss of 276m Australian dollars ($287m; £181m) for the year ending 30 June. That compares to a net profit of A$119m a year earlier.
The Private equity firm TPG International has made an offer to buy the company for A$695m.
Billabong said it plans to simplify its business and focus on core brands.
Its business suffered after it branched out into the retail sector, just as the global financial crisis in 2008 caused consumers to rein in spending.
Shares of the company plummeted after it cut its earnings forecast.
Billabong has already closed 58 stores and plans to close another 82 in the upcoming financial year.
Takeover bid
TPG had previously offered A$3.30 per share for Billabong, valuing the company at A$841m.
But the surfwear chain rejected that bid insisting that it did not reflect the true value of the group.
However, after the company's shares plunged, TPG came back with an even lower bid of A$1.45 per share.
On Monday, Billabong said talks were ongoing, but reiterated that the new offer was too low.