Chinese carmaker BYD posts 94% drop in half year profit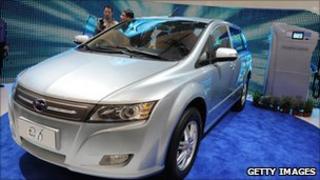 The Chinese car and battery maker BYD, suffered a 94% drop in earnings for the first half of the year and warned of further declines.
The company blamed the slide on slowing car sales both in its home Chinese market and internationally.
Shenzhen-based BYD is 10% owned by the billionaire US investor Warren Buffett.
The huge growth enjoyed by the Chinese car industry in 2009 and 2010 has slowed down significantly.
Profit warning
"Our business is fairly directly affected by the changing economic situation at home and abroad," the company said.
"The future downward pressure on the global and Chinese economies may affect demand for our core businesses in key markets, and would affect our performance to a certain extent."
Net income slumped to 16.3m yuan ($2.6m; £1.6m) from January to June, compared to 275.4m yuan in the same period a year earlier.
BYD had warned earlier this year that it expected profits to fall between 75% and 95%.
Solar business
In 2009, China became the biggest car market in the world, surpassing the United States. However, in mid 2010 the Chinese government started removing financial subsidies for car purchases, which put the brakes on growth of sales.
Analysts said BYD's solar panel business, which is making a loss, has hurt its overall profitability.
"The Buffett halo effect has long faded. BYD has been dragged down by its solar business," said Sheng Ye from Ipsos, an industry consultancy.
BYD, like other Chinese solar companies, ships most of its panels overseas.