Claims management firms face tougher rules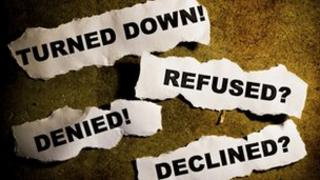 People who are let down by claims management companies (CMCs) will be able to go to the Legal Ombudsman.
The Ombudsman has the legal power to award compensation to consumers if appropriate.
Claims firms have been blamed for stoking up thousands of bogus claims against banks for the mis-selling of payment protection insurance (PPI).
The government has announced the change as part of a wider attack on rogue claims firms.
The chief Legal Ombudsman, Adam Sampson, said: "This is great news for the public and consumers as we have significant powers of redress to help protect them."
"We are confident we can support the claims management regulator to improve standards across the industry."
The Ombudsman will take over dealing with complaints about individual CMCs from the Ministry of Justice's (MoJ) Claims Management Regulation Unit (CMRU) in 2013.
The MoJ does not have the power to award compensation.
Last week, the MoJ proposed that CMCs in England and Wales should have to use signed written contracts with their clients before they could charge fees.
Richard Lloyd, executive director of Which? welcomed the new rules but said the government should do more.
"We want a ban on upfront fees and cold calling, and for CMCs to be required to publish online all of their terms and conditions, fees and charges," he said.
"Far too often consumers are being ripped off by unscrupulous CMCs, when they can easily reclaim the money by themselves for free."
Thriving industry
CMCs advertise widely on TV, newspapers and the internet, encouraging people to sue for personal injury compensation, and for other losses.
Some firms use improper cold-calling, by phone or text, to drum up clients.
In the past year, the banking industry's exposure to millions of claims for the past mis-selling of PPI policies has proved lucrative for the claims firms, who have encouraged tens of thousands of people to use their services, for a charge,
However, individuals can make a PPI claim themselves for nothing.
The MoJ revealed last week that the "vast majority" of complaints it received from consumers related to CMCs which offered to run claims against financial services firms, with PPI being the standout example.
About three quarters of complaints were about CMCs specialising in PPI, most of which came from between 15 to 20 firms.
The MoJ acknowledged that these businesses were not necessarily typical of the wider industry.
But the authorities want to ensure the whole claims industry will be run under much tougher rules within the next year.
"Time and time again we see examples of consumers who have inadvertently agreed to a contract with a CMC without a written contract in place," said Kevin Rousell, head of claims management regulation at the MoJ.
Further changes
Claims firms have been regulated by the MoJ and its CMRU since 2007.
In that time, more than 700 outfits have been banned or closed down by the regulator.
There are still about 3,000 such firms in existence in England and Wales, typically authorised to run claims for personal injury compensation.
Among the other changes being proposed, claims firms will also no longer be able to state they are regulated by the MoJ - only by the CMRU.
This is to stop clients being misled into thinking a firm is endorsed by the ministry.
The CMC firms will also have to tell their clients if they are suspended from business, or have had their authorisation altered.