Paddy Power profits boosted by football and online bets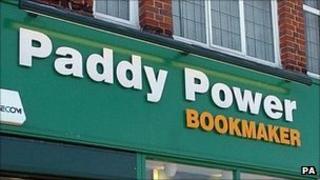 Bookmaker Paddy Power has reported a rise in half-year profits thanks to accelerated growth in online gaming and aggressive marketing during the Euro 2012 football tournament.
Pre-tax profit was up 21% to 68.7m euros ($86.3m; £54.5m) with revenue up 29% to 311m euros from a year earlier.
Online revenue jumped 41% to 191m euros while mobile gaming revenue more than trebled to 53m euros, the firm said.
Strong growth in Australia and Italy also contributed to higher earnings.
"This has been a very strong first half for Paddy Power. Revenue growth in our existing businesses has accelerated with a 29% increase and each of the divisions achieving double digit growth," said chief executive Patrick Kennedy.
"We strongly promoted our brand, products and money-back specials during Euro 2012. This contributed to a 50% increase in online customer acquisition for the half year," he added.
"We are confident in the group's prospects for the rest of the year and beyond."
The positive results came despite refunds of 5.6m euros to customers on its money-back offers, which allowed refunds to customers if their bets on certain outcomes were unsuccessful.
The Irish group's expansion into Italy helped capture a 4% share on the online betting market there in the first full month of operation, it said.
In Australia, where it entered the market in 2010 after acquiring Sportsbet, operating profit rose by 35% from a year ago to 13.2m euros.
888 profits
Meanwhile, online gaming firm 888 said it made a pre-tax profit in the first six months of the year of $18.4m (£11.6m) compared with a $22.1m loss the previous year on robust demand for its casino and poker products. Sales rose 21% to $186.4m in the same period.
The company, which owns the 888 casino, poker, sport and bingo brands, said revenue is expected to grow thanks to the Spanish market, where the government earlier this year awarded online gaming licences to several gaming companies including 888.
"The second half of the year will see increased investment in Spain, where we will attempt to build on our market share, and also in the United States, where we are preparing for regulatory changes," said chief executive Brian Mattingley.
"We will also continue to invest in our technological platform, the cornerstone of our offer, and make improvements to our mobile channel."