Ryanair's Aer Lingus bid faces EU inquiry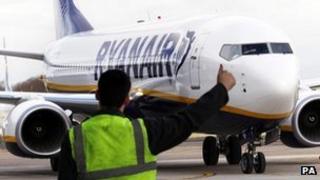 Budget airline Ryanair's latest attempt to take over its Irish rival Aer Lingus is to be investigated by the European Commission over competition worries.
In June, Ryanair proposed a cash offer for its rival valuing it at 694m euros ($883m; £561m).
But the commission said that its initial findings "indicated potential competition concerns".
A previous attempt by Ryanair to buy Aer Lingus was blocked by the commission in 2007.
Route overlap
In a statement, the commission said: "On a large number of European routes, mainly out of Ireland, the two airlines are each other's closest competitors and barriers to entry appear to be high.
"Many of these routes are currently only served by the two airlines.
"The takeover could therefore lead to the elimination of actual and potential competition on a large number of these routes," it said.
The commission said it would decide by 14 January whether it approved of the deal or not.
In a statement, Ryanair - which already owns 30% of Aer Lingus - said that under the terms of its proposal, the commission's investigation meant that its offer would lapse.
However, it said it intended to re-bid for Aer Lingus if the commission gave the deal the go-ahead.
Aer Lingus has said on numerous occasions that its shareholders should reject the Ryanair bid.
Following the commission's announcement, Aer Lingus said the airline was much stronger than when Ryanair first attempted to buy it.
It also noted that the number of routes into and out of Ireland on which it and Ryanair competed had "sharply increased".
"The reasons for prohibition are therefore even stronger than before," Aer Lingus said.