Philippines sees growth rate slow in second quarter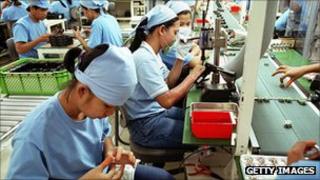 The Philippines economy grew at a slower pace in the second quarter as a fall in global demand hurt its exports and industrial output.
Growth was 5.9% in the April to June period, compared with a year ago. That is down from 6.3% annual growth in the first quarter.
Compared with the previous three months, the economy expanded by just 0.2%.
Growth was also hurt by a slowdown in the farming and services sectors.
However, analysts said that strong domestic demand had helped cushion the impact of a dip in foreign sales.
"Even though we're seeing a lot of headwinds from external demand and we have seen exports going sideways, this has been offset by non-electronics exports and it has also been supported a lot by domestic demand," said Eugene Leow, an economist with the DBS bank.
Growth boost
The slowdown in markets such as the US and eurozone has hurt demand for Philippines exports.
Shipments from the country rose 4.2% in June from a year earlier, compared with 19.7% annual growth in May.
Concerned over the impact of the global economic uncertainty on its economy, the Philippines central bank has already cut interest rates three times this year in a bid to sustain growth.
The latest cut, announced late last month, saw the bank lower its key rate to a record low of 3.75%.
Analysts said that policymakers had enough room to take further measures if the growth continued to slow.
They said that any rise in consumer prices due to the recent floods was likely to be temporary and as a result the inflation was expected to remain low.
"There is definitely room to further cut rates if needed," said Mr Leow of DBS bank.