Pernod Ricard names heir as new chief from 2015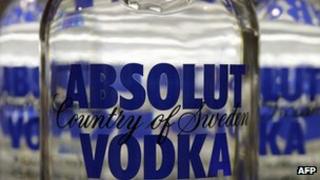 Pernod Ricard has announced that the nephew of recently deceased chief executive Patrick Ricard will take the company's helm from January 2015.
In the meantime Alexandre Ricard, 40, has been promoted to deputy chief executive and chief operating officer, the firm said in a statement.
The appointment is seen as the founding family's bid to keep a grip on the company, in which it has a 14% stake.
It came as it reported a 9% rise in annual profits thanks to Asian demand.
The French distiller behind the iconic aniseed liquor - which also owns the global brands Jameson Whiskey, Absolut Vodka, as well as Mumm and Perrier-Jouët champagnes - also appointed Daniele Ricard, Patrick's sister, as the new chairman of the board of directors. Mr Ricard passed away two weeks ago.
The current chief executive, Pierre Pringuet, was promoted as vice-chairman of the board, and will remain in his position until handing over the company's reins to Alexandre.
It was Patrick Ricard's wish that the founder's French heirs remain at the helm of the group ever since Paul Ricard first commercialized pastis, originally produced as absinthe, in 1932. His eponymous company later merged with rival Pernod in 1975.
Asian thirst
Meanwhile Pernod Ricard said that sales in Asia and the Americas helped to offset a fall in its home market, France - its best results since 2007-08 at the height of the global economic downturn. Sales in Asia rose by 15% and by 6% in the Americas, boosting total revenue to 8.2bn euros ($10.3bn; £6.5bn), up 7% from the previous year.
Net profit for the year ended 30 June rose 9% to 1.17bn euros and the group said it would offer a 10% increase in its dividend to 1.58 euros.
Demand in its home market France fell due to the impact of a tax rise on alcoholic beverages implemented at the beginning of the year.
"Despite the economic uncertainty, we are confident in the group's ability to deliver solid growth this year as well," said chief executive Mr Pringuet.
Jean-Marie Lhome, an analyst at Aurel BGC brokerage, said: "The figures are generally in line with expectations and completely satisfactory."