German retail sales fall 0.9% in July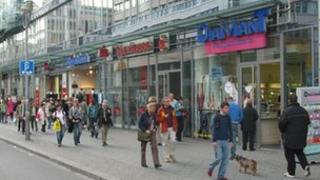 Retail sales in Germany fell in July, with analysts citing rising fuel prices as the reason why shoppers reined in their spending.
Sales in Europe's largest economy fell 0.9% compared with the month before, the Federal Statistics Office said.
But June's figure was revised up from a drop of 0.1% to show a rise of 0.5%.
It comes a few days after a separate report showed that German business confidence had fallen for the fourth month in a row to a 29-month low.
German economic growth slowed between April and June to 0.3%
'Key driver'
"Fuel prices are reaching record levels and this is the kind of inflation that people really feel, which in the very short-term leads households to save money on other expenditure," said Christian Schulz at Berenberg Bank.
"It doesn't mean that household consumption overall goes down but that retail sales suffer so I think the key driver behind this decline is fuel price inflation," he said.
On an annual basis, July sales were down by 1%.
June's year-on year figure was revised up from a rise of 2.9% to show a gain of 3.7%.