US Fed chief Ben Bernanke hints at further measures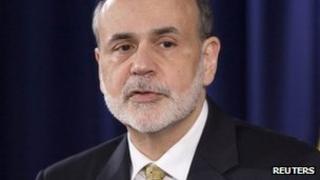 The head of the US central bank has said that he has not ruled out further action to boost the US economy.
"The Federal Reserve will provide additional policy accommodation as needed," said Fed chairman Ben Bernanke in a much-watched speech.
In particular, he suggested that the Fed may pump more money into the economy via so-called quantitative easing.
Mr Bernanke spoke at an annual conference in Jackson Hole, Wyoming.
The Fed calls such measures "asset purchases", where the central bank buys bonds to keep the long-term cost of borrowing down.
"As the crisis crested, and with the federal funds rate at its effective lower bound, the FOMC [Federal Open Market Committee] turned to non-traditional policy approaches to support the recovery," Mr Bernanke said.
"The costs of non-traditional policies, when considered carefully, appear manageable, implying that we should not rule out the further use of such policies if economic conditions warrant."
As in the UK, the US central bank has tried to support the economy by quantitative easing - buying in $2.3tn in bonds in two rounds.
The last round of asset purchases ended last year. Many analysts believe the Fed will launch more bond-buying later this year, in a process referred to as QE3.
Unemployment
"This is another clear sign that the Fed is ready to provide more policy stimulus," said Paul Dales, a US economist at Capital Economics.
"And the discussion of asset purchases and communication guidance in this speech suggests that QE3 and an extension to the Fed's zero-rate pledge... are the tools most likely to be used."
With interest rates in the US close to zero for several years now, there is little scope for the Fed to use rates to stimulate the economy.
Earlier this month, the Fed said its $267bn (£170bn) programme to reduce long-term borrowing costs for firms and households would continue for the rest of the year.
In a move dubbed "Operation Twist", the central bank buys longer-term bonds from retail lenders and swaps them for shorter-term bonds.
Mr Bernanke also lamented the fact that unemployment remained high, above 8% currently, despite the US economy returning to growth.
"In light of the policy actions the FOMC has taken to date, as well as the economy's natural recovery mechanisms, we might have hoped for greater progress by now in returning to maximum employment," he said.
The world's largest economy added an extra 163,000 jobs in July, but the unemployment rate rose from 8.2% to 8.3% as more people re-entered the workforce but failed to find a job.