European Central Bank urged to take eurozone action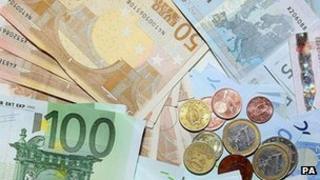 The head of the Organisation for Economic Co-operation and Development has called on the European Central Bank to take action on the eurozone crisis.
"It has to be a credible signal," Angel Gurria said. "If you have the ECB which can work in the markets... then why not?"
The ECB meets this week amid much speculation it will resume buying the debt of countries with high borrowing costs.
Germany and others oppose such a move.
'System at stake'
Mr Gurria was asked by news agencies whether the ECB should buy bonds of Italy and Spain, two countries whose interest rates at auction have exceeded 7% in recent months.
"Yes, they should," he replied. "If you ask when, the answer is the sooner the better."
"I think that the ECB is the bazooka, the firepower, the muscle, the one that has the capacity to impress upon the markets," he added.
"We have passed the question of moral hazard, these are performing countries, now it is the system that is at stake."
The OECD is an organisation that consists of 34 countries, including the US and Western European nations.
Germany, Europe's largest economy and the biggest contributor to the region's many bailouts, believes they are inflationary, and the ECB's priority is to keep inflation under control.
The ECB is also forbidden to lend money to European governments under its constitution.
And Bundesbank head Jens Weidmann, one of 17 eurozone central bank chiefs involved in ECB policy, has said any bond-buying plans risked making central bank financing "addictive like a drug" for struggling eurozone governments.
But during the debt crisis, the ECB has been buying up sovereign debt in the open market to help ease the market pressure on struggling, debt-laden eurozone countries.
The question is whether it will go any further at its meeting on 6 September.