Fyffes warns of rising tropical fruit prices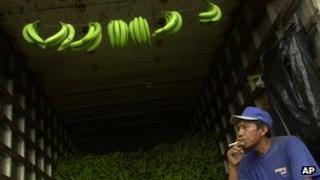 Tropical fruit supplier Fyffes has warned of higher banana and pineapple prices due to rising fuel costs and adverse exchange rates.
The warning came as the group posted a pre-tax profit of 22.4m euros (£17.7m) in the first six months of the year, up nearly 30% from a year earlier.
The company said revenues were up 20% to 550m euros.
Fyffes said it offset the higher costs by increasing volumes and overhauling its shipping costs.
"The industry experienced a number of headwinds during the first half of the year, including a significant adverse movement in exchange rates, due to the relative strength of the US dollar, combined with higher fruit," Fyffes said. It added that the price of fuel used in its ships rose 20%.
Fyffes is "continuing to pursue necessary increases in selling prices in its key markets in the context of these higher costs and less favourable exchange rates," it added.
Global food prices have jumped in recent months due to volatile and extreme weather conditions, particularly due to a drought in the US and a heat wave in some parts of Eastern Europe.