Bank of England holds interest rates at 0.5%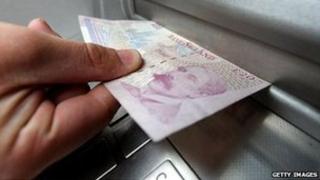 The Bank of England has kept interest rates at 0.5% and held off from more stimulus measures.
Its rate-setting Monetary Policy Committee has voted to maintain rates at this historic low for three years.
It also decided not to increase its programme of quantitative easing (QE), having lifted it by £50bn in July to £375bn.
For its part, the European Central Bank in Frankfurt kept eurozone interest rates unchanged at 0.75%.
The news came on the day that the OECD cut sharply its forecast for the UK economy.
Worries about the UK economy have led business groups to call on the government to kick-start growth with infrastructure spending.
Under QE, the Bank pumps fresh money into the banking system to try to boost lending and thus the wider economy.
Many analysts believe the Bank will wait until November to assess the impact of the last round of QE, and will inject more money if the economy shows no sign of recovery.
The UK has been in recession for the last three quarters.
Although recent surveys have pointed to slight improvements in the manufacturing and service sectors, on Thursday the OECD slashed its UK growth forecast for 2012.
The think-tank expects the UK's economy will contract by 0.7% this year, whereas in May it predicted growth of 0.5%.
Eurozone crisis
Anna Leach, head of economic analysis at the CBI business group, said: "We would need only a relatively small deterioration in economic conditions to prompt a further extension of the asset purchase programme later this year."
Nida Ali, economic advisor to the Ernst & Young ITEM Club, said: "With MPC members currently in wait-and-see mode, we weren't expecting any change in monetary policy this month."
She added: "The Bank has not indicated any intention to loosen policy further in the future, but may be forced to provide greater support if the eurozone crisis worsens."
In addition to cutting its UK growth figures, the OECD also cut those for the eurozone bloc, including the region's main economic driver, Germany.