Haier bids for Fisher & Paykel as it seeks growth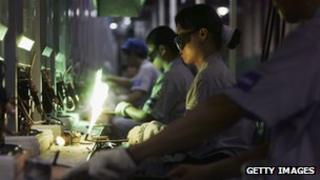 China's electronics maker Haier has launched a takeover bid for New Zealand's Fisher & Paykel in a bid to boost its global presence.
Haier has offered NZ$869m ($710m; £440m), or NZ$1.20 per share, for the 80% stake in the firm that it doesn't already own.
That is a 60% premium on Fisher & Paykel's closing price on 7 September.
Haier has been looking to boost growth amid a slowdown in global demand and increasing competition.
Liang Haishan, a director at Haier's New Zealand branch said he was confident that the offer will be successful.
"We believe the opportunity to receive cash and realise a significant premium over the current share price is attractive for Fisher & Paykel Appliances' shareholders, particularly given market volatility, recent economic uncertainty and the competitive nature of the global white goods sector," he was quoted as saying by the Associated Press news agency.
'An ideal company'
China's Haier is one of the biggest manufacturers of home appliances and electronics in the world.
Its products range from refrigerators and washing machines to air conditioning units and TVs.
However, the competition in the sector has increased over the years, with the likes of South Korea's Samsung and LG increasing their global marketshare.
Analysts said that if successful, the acquisition of Fisher & Paykel, which is known for its state-of-the art products, was likely to help put the Chinese firm on a strong footing.
The New Zealand firm holds valuable patents, and has developed products such as a dishwasher with two drawers instead of a single pull-down door.
This feature has helped it make a mark in the US market, one of the world's biggest for home appliances.
"Fisher and Paykel would be an ideal company for (Haier) to stitch on to their existing operations and use their technology," said Brian Gaynor, director of Milford Asset Management.
However, the offer is subject to approval from authorities in New Zealand.