B&Q owner Kingfisher says record rain cut profits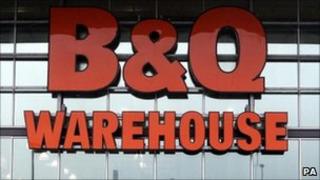 B&Q's owner, Kingfisher, says the summer's heavy rainfall cut its profits in the UK and northern Europe by £30m.
It said the record wet weather across the region had a significant impact on customer numbers, leaving sales of seasonal products such as barbecues down by 7%.
It said this meant it had to make higher than usual cuts in prices to shift summer goods.
Profits for the six months to the end of July were down by 16% at £371m.
DIY retailers have had a testing couple of years, with the housing market in the doldrums and economic uncertainty putting some consumers off making big changes to their homes.
"One way DIY retailers have reacted to this is to ramp up their gardening and outdoor categories, due to the promising long-term prospects of a category benefiting from an ageing population and a trend towards grow your own," said Matt Piner from retail analysts Conlumino.
"However, in a year when sunshine has been fleeting, gardening and outdoor activities have proved much less appealing," he said.
Its UK and Ireland business was worst hit by the bad weather, with total sales down by 3%. Seasonal product sales fell 11% and customer visits to its stores were down by 20% in the wettest weeks.
Kingfisher has stores across the world, mitigating some of the weather-related problems of Northern Europe.
Profits in Russia, for example, where the company is expanding fast, were up by 48%.
Kingfisher's chief executive, Ian Cheshire, said: "This has been a tough first half, with unprecedented wet weather throughout the key spring and summer seasons in Northern Europe."
He said the company's actions in clearing excess stock and pushing sales of indoor products had mitigated the worst effects of the weather and these efforts meant it had "exited the first half in as good shape as possible".
He added that the economic backdrop was likely to continue for sometime.