Bid to transfer receipts from paper to online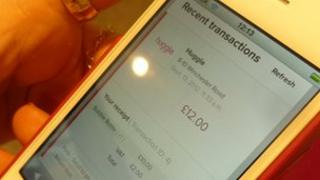 Businesses are aiming to use new technology to free wallets and purses from bulging with paper receipts.
Cash registers began giving out receipts at the end of the 19th Century.
But in the coming weeks a new scheme will be launched that will allow some consumers to store their receipts from a selection of shops online.
Organisers believe that this should make it easier to claim refunds, and prevent disputes at the till.
"We already read books on tablet computers or phones," said Andrew Carroll, of Paperless Receipts, the company which is behind the launch.
"So it is a natural progression that receipts will be outdated, and then phased out."
However, the move to digital will also open the possibility of marketing products to consumers.
Small start
Initially, 75 small shops in the West End of London will be part of the scheme, although big retailers like the furniture chain DFS are in the process of joining up.
Customers hand over a plastic card - often a retailer's loyalty card - or their smartphone, which is swiped at the till.
Within seconds they can go on a website, and see details of their purchase.
Those details will be stored "in the cloud", in other words independently of the customer's own computer or phone, to offer greater protection.
The retailer keeps a similar record.
In theory, that should remove the possibility of any disputes about the date of a purchase, should a customer subsequently want a refund.
Insurance claims
Storing receipts electronically can have other advantages, organisers say, beyond an end to bulging wallets, or drawers stuffed with dozens of bits of paper, awaiting an eventual shredding.
It should make filing an insurance claim much easier, since receipts will always be on hand.
When buying electronic goods, such as televisions or fridges, the receipt often also acts as the warranty, protecting the customer from technical faults for a year or two after the purchase.
"For insurance claims or warranties, you will always have that one central account you can refer to when looking for your purchase history," said Mr Carroll.
Marketing opportunity
Another company has already started a similar scheme, but instead of saving receipts on an internet site, it sends out emails instead.
The company, yReceipts, has signed up 500 shops already.
When customers approach the till, they are asked whether they would like a traditional receipt or if they would like it sent to them by email.
The company believes that retailers themselves will prefer emails, as it is easier to push marketing opportunities to customers.
When yReceipts experimented with using a website, they found that very few customers went back to view their receipts, so they would miss marketing material or promotions.
As a result, retailers were not too keen.
This has raised concern that customers receiving emails could simply be bombarded with marketing material from shops, which potentially could be just as annoying as the old paper receipts.
"Not with our company," said Alex Stegmann, of yReceipts.
"The retailer needs your opt-in, in order to be allowed to send you marketing materials, so the email address will never be collected without your specific opt-in."
The London scheme is being launched at shops in Kensington and Chelsea on the last weekend in September, but it expects to roll out across the country in the months to come.
In the meantime the advice from experts is to hang on to any paper receipts, however much of a nuisance they may be.