Heineken wins support of Thai billionaire for Tiger bid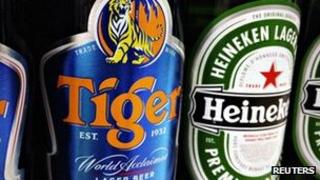 Dutch brewer Heineken has ended the stand-off over control of the maker of Tiger beer, by garnering the support of a Thai billionaire.
Charoen Sirivadhanabhakdi's ThaiBev and TCC Assets have agreed to back the sale of Singapore-based Fraser and Neave's (F&N) stake in Asia Pacific Breweries (APB) to Heineken.
Heineken has offered 5.6bn Singapore dollars ($4.6bn; £2.8bn).
Analysts said chances of Heineken's bid being accepted by F&N were now higher.
The news sent Heineken's shares as much as 5.4% higher in morning trading.
"Thai tycoon Charoen has backed down and handed Heineken a free passage to takeover APB," said Justin Harper from IG Markets in Singapore in a note to clients.
"While he pursues the acquisition of its joint parent company Fraser & Neave."
Last week, Mr Sirivadhanabhakdi, whose companies own about 30% of F&N, made an offer to acquire the rest for almost S$9bn.
It was the latest escalation after months of a bidding war for the assets.
In a joint statement Tuesday, the companies said Heineken will not make an offer for shares in F&N.
Analysts said the two parties appeared to have reached a settlement to prevent the deals costing more for both.
"It could be a win-win for everyone involved. Heineken gets its prized asset of APB, the Thais get a good price which will help fund their takeover of F&N," said Mr Harper.
The board of F&N has already given its approval for the Heineken bid. The shareholders will meet to vote on 28 September.