Insurers urge flood preparations as rain lashes UK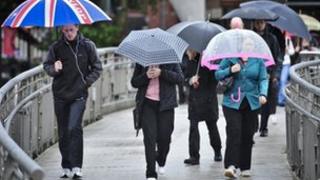 Insurers are urging homeowners to be well prepared as strong winds and rain lash parts of the UK.
Householders are being told to keep insurance documents as well as local authority and utility firms' emergency contact details in a safe, dry place.
The Association of British Insurers (ABI) also advised people to check gardens if strong winds persisted.
Many areas of the UK suffered from flooding in the early summer, leading to significant payouts by insurers.
The ABI said that home insurance and motor insurance details should be kept safe, along with contacts for gas, water and electricity providers. Householders should also check that garden equipment has been secured.
Much of the UK is braced for an average monthly rainfall within the next 24 hours.
Winds of up to 60mph will hit the north of England and south of Scotland, while other areas could see 80mm of rain before Monday evening, forecasters say.
Anyone whose property is damaged should contact their insurer's 24-hour emergency number as soon as possible, before throwing out any damaged belongings.
"Insurers expect bad weather to strike any time and have arrangements in place to minimise distress and inconvenience and help customers recover as quickly as possible, said Nick Starling, the ABI's director of general insurance.
"Anyone who has suffered damage should contact their insurer straight away to get their claim moving."