Japan Tankan survey shows business mood worsening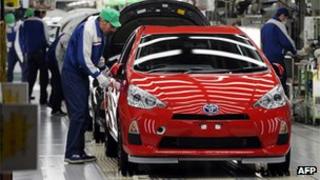 Japanese businesses sentiment worsened in the three months to September, a survey has indicated, underlining the weakness in the country's economy.
The Bank of Japan's Tankan Survey measures pessimism and optimism among large manufacturers.
The index showed the mood deteriorating to minus 3, compared with minus 1 in the June survey. It has been negative for four straight quarters.
Analysts said demand had been hit by a weak global economic picture.
"The details of the Tankan show that indexes for demand are weakening both domestically and overseas, reflecting the slowdown in the global economy and its impact on Japan," said Hiraoki Muto from Sumitomo Mitsui Asset Management in Tokyo.
Chinese demand
The debt crisis in Europe and slowing growth in China have been the main factors affecting overseas shipments.
Even if growth picks up in China, a territorial dispute over islands in the East China Sea could mean that Japanese businesses do not see exports to China pick up.
Anti-Japanese sentiment in China could be weighing on the business mood as China is a key market for Japanese goods.
Last month, Toyota Motor and other carmakers said they would adjust production in Chinese factories to account for a slowdown in Chinese orders and sales.
The strong yen is also affecting the mood of manufacturers, as it erodes profits from overseas.
However, despite the worsening sentiment, big firms plan to slightly raise their capital spending by 6.4% in the year ending in March 2013, the Tankan showed. That compares with a 6.2% increase in the last survey.
The Tankan is calculated by subtracting the percentage of firms who say conditions are poor from those say they are good. A negative reading indicates more are pessimistic than optimistic.