Eurozone manufacturing downturn eases, PMI suggests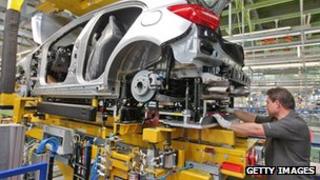 The downturn in the manufacturing sector in the eurozone eased slightly in September, according to a closely-watched survey.
The Markit Purchasing Managers' Index (PMI) for the region was 46.1 in the month, up from 45.1 in August. Any score below 50 indicates contraction.
Despite the slight upturn, manufacturing in the eurozone has now contracted for 14 consecutive months.
Earlier, data showed that manufacturing in China shrank for the second month.
China's PMI rose to 49.8 in September from 49.2 in August, government data showed.
In the UK, the PMI indicated that manufacturing output shrank during September.
The Markit Purchasing Managers' Index (PMI) for the UK manufacturing sector fell to 48.4 in September from an upwardly revised 49.6 in August.
Job losses
Only the Republic of Ireland and the Netherlands recorded growth in manufacturing output, but there were improvements in German, Italian and Spanish PMIs, all of which hit six-month highs.
By contrast, France's PMI, at 42.7, recorded one of its sharpest falls in history, Markit said.
Manufacturers across the eurozone reported weaker demand in domestic markets, while export orders also fell.
More jobs were lost in the sector for the eighth month in a row, while input costs rose for the first time in four months.
"Despite seeing some easing in the rate of decline last month, manufacturers across the euro area suffered the worst quarter for three years in the three months to September," said Markit's chief economist Chris Williamson.
"The survey is consistent with manufacturing output falling at a quarterly rate of perhaps as much as 1%, which means the sector will act as a severe drag on economic growth."