Personal borrowing still stagnant in August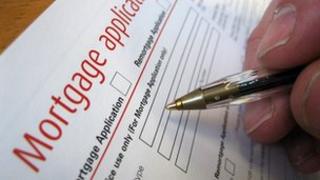 The value of loans to individuals fell in August by £400m - the third largest monthly drop on record.
The Bank of England said this left the stock of outstanding personal debt in the UK at just under £1.413 trillion.
The figures reflect the continuing recession and the reluctance of banks to lend.
The stock of mortgage lending fell by £300m and consumer credit lending, via credit cards and other loans, dropped by £100m.
Mortgage lending
The number of new mortgages approved for home buyers but not yet lent - a good indicator of forthcoming trends - was almost unchanged in August compared with July, at 47,665.
This suggests that the stagnation of the UK property market is likely to continue in the coming months.
Commenting on the further shrinkage of outstanding mortgage debt, Howard Archer of IHS Global Insight said: "This was the second net repayment in mortgage lending in the past three months and was the steepest since December 2010.
"The Bank of England data indicate that consumers appetite for new taking on new borrowing is limited while there is also an ongoing strong desire of many consumers to reduce their debt."
Other lending
The amount of outstanding credit card lending hardly changed in August.
But the stock of lending in the Bank's category of "other loans" - typically bank loans, overdrafts and hire-purchase agreements - dropped by £200m, as consumers repaid more loans that month than they took out.
August was the ninth month in the last 12 that this type of lending has dropped.
This continued the downward trend which started in earnest in early 2009 as the economy moved into recession.
Funding for lending
At the start of August the bank launched its new Funding for Lending scheme to help get the economy out of its current recession.
Under this, it is offering to make cheap funds worth about £80bn available to banks and other lenders, on condition they lend the money to commercial and personal borrowers.
It is hoped that this will lead to more mortgages being lent to people with only small deposits to put down, and a greater flow of funds to small and medium sized businesses, some of whom claim to be being starved of finance by the big banks.
Figures which will show if the scheme is having any effect will be published in due course.
Last week, both the Bank and the Treasury said they were confident it would work, with the Bank pointing to an apparent easing of lending restrictions by mortgage providers.
However, this applied only to borrowers with large deposits.
And the Bank's Credit Conditions survey suggested that the amount of money that would be lent to firms over the rest of this year would in fact be unchanged.