Australia central bank cuts main interest rate to 3.25%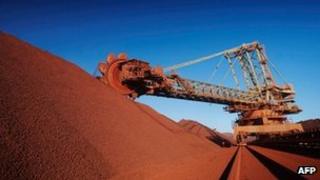 The Reserve Bank of Australia (RBA) has unexpectedly cut its official interest rate saying global growth was weighing on the country's economic outlook.
The bank cut its key rate by a quarter percent to 3.25%, the lowest rate in three years.
It is the first cost of borrowing cut since June.
The central bank said the strength of the Australian dollar as well as weak export prices justified the move.
"The Board judged that, on the back of international developments, the growth outlook for next year looked a little weaker, while inflation was expected to be consistent with the target," said RBA Governor Glenn Steven in a statement.
"The Board therefore decided that it was appropriate for the stance of monetary policy to be a little more accommodative."
Many economists had expected the central bank to wait until inflation figures were announced later this month.
Slowing growth in China, as well as Europe has affected export-led economies such as Australia.
A strong Australian dollar, coupled with falling prices for commodities such as iron ore and coal means exporters have been less profitable.
In recent week, major mining firms have cancelled ambitious investment plans and closed mines.
Australia's resources boom has led growth in recent months, and analysts said this could be a sign that the boom is coming to an end.