UK trade deficit widens sharply in August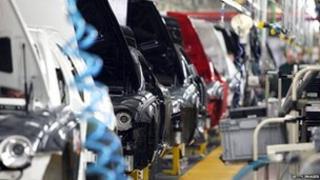 The UK's trade deficit more than doubled in August, according to the Office for National Statistics.
The difference in goods and services imported and exported widened to £4.2bn in August, from £1.7bn in July.
The UK's deficit with the 27 countries of the European Union - including the crisis-plagued eurozone - widened to £4.9bn in August from £4.4bn in July.
Separately, the UK's industrial production fell in August for the 17th month in a row.
"The trade statistics continue to provide few reasons for optimism in the short term, with the large drop in goods exports to parts of the eurozone over the past year underlining the ongoing impact of the crisis," said Lee Hopley, an economist at manufacturers group EEF.
"For many exporters, it is not just a question of when demand there will stabilise, but whether other parts of the world will help pick up the slack next year."
Olympic effect
The UK's deficit on trade in goods widened to £9.8bn, up from £7.3bn in the previous month.
Regarding trade outside the EU, the UK's deficit was £5bn in August, up from £2.9bn in July. The increase in total imports of goods was mainly due to a jump in oil imports, by almost £1bn.
The period includes the Olympics in August, which may have affected international travel, tourism and employment. "For most economic statistics, any direct effects of the Olympics will be mainly seen in the August estimates," the ONS said.
Industrial production declined by 1.2% last month from the same month in 2011, the ONS said.
In manufacturing, the largest falls were recorded in chemical products, which fell by 9%, and in food, drinks and tobacco.
"There is some anecdotal evidence to suggest that some businesses had longer summer closures in August 2012, or that closures were held later than in previous years so that they affected August exclusively instead of being spread across July and August," the ONS said.
"In particular, this affected month-on-month movements in the manufacture of transport equipment industries."