Burberry confirms weak China sales figures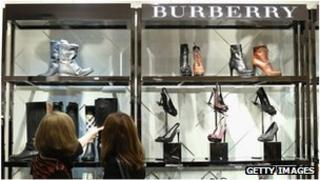 Burberry has confirmed that demand in key growth market China slowed sharply.
But shares in the fashion house closed 13% higher as sales in other markets remained robust.
Total underlying revenues in the six months to September rose 8% to £883m versus a year ago, the firm said, despite the sales slowdown in China and also in its UK home market.
Burberry also announced that it would bring its perfume and beauty products business in-house.
The move means that the firm will take back control from April next year of the global sourcing, logistics and distribution of the products from licencee Interparfums.
Share rebound
In early September, Burberry shares slumped 19% after the company issued a surprise profit warning related to the downturn in China.
Last Updated at 15 Dec 2017, 16:21 GMT
price
change
%
1723.00 p

-

-8.00

-

-0.46
The poor performance is in large part due to an unexpected weakening of the Chinese economy.
The share-price rebound on Thursday morning was further encouraged by comments from chief executive Angela Ahrendts that sales in China had slowed from the "teens" three months ago to a rate that was still "marginally positive" in the most recent quarter.
She added that she "can't draw the conclusion" that the annual sales growth figure would go negative in the coming three months.
Despite the bounce, shares still remain well below the level they were trading at before the profits warning was issued.
Worldwide sales in the last three months at comparable stores open at least one year rose 1%, the firm said, compared with a 6% rate in the previous three months.
Business in Hong Kong, Germany and France remained robust, Burberry said.
"In a more challenging external environment, footfall declined but brand momentum remained strong, particularly with our higher spending luxury consumer," said Ms Ahrendts.
New men's tailoring and men's accessories performed particularly strongly.
The retailer said it continued to expand its presence, with a 14% increase in floorspace planned. In the last six months Burberry opened 13 new mainline stores, including in Milan, Rome, Hong Kong and London's Regent Street.