Singapore and Germany agree deal to tackle tax evasion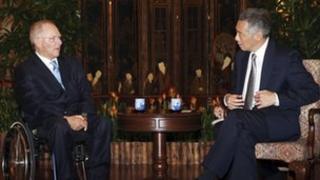 Singapore and Germany have agreed to increase the level of information they exchange in a bid to crack down on tax dodgers.
Germany has been wary of some of its citizens moving their funds to Asia.
This is after Berlin signed a treaty with Switzerland targeting nationals who hide taxable income in Swiss banks.
Singapore has been taking measures to clamp down on foreigners shifting their funds to the city-state to avoid paying taxes in their own country.
Last week, it announced plans to penalise banks that facilitate tax evasion.
The Monetary Authority of Singapore said that financial institutions "must develop and implement policies, controls and procedures to effectively detect and deter the laundering of proceeds from wilful or fraudulent tax evasion through the financial system".
'Committed to safeguard'
Singapore, along with Hong Kong, has emerged as a regional hub for private banking and wealth management over the past few years.
The sectors are expected to grow even further in the near term.
However, there have been concerns that the two financial centres may be used by foreign nationals to hide their wealth from authorities in their own countries.
These fears have been fanned further after various countries, including the US, UK and Germany, increased pressure on Switzerland, considered a traditional tax haven, to disclose information about their citizens' deposits in Swiss banks.
For decades foreigners operating bank accounts in Switzerland have been provided with complete secrecy by the country's banking laws.
But with increasing pressure, Swiss authorities and some banks have started to make some concessions.
In August 2011, the Swiss government agreed to tax money held by UK taxpayers in Swiss bank accounts for the first time.
In November, Swiss bank Credit Suisse sent letters to some US clients saying their account details might be given to the Internal Revenue Service.
"The perception is that Swiss banks have concluded Switzerland is unlikely to remain a tax haven for much longer and Singapore is the new place to do business," said Ronen Palan, a professor at City University London.
The Monetary Authority of Singapore said that "Singapore is fully committed to safeguard its financial system from being used to harbour proceeds from tax crimes".
It added that it had asked financial institutions to conduct "rigorous customer due diligence and transactions monitoring, as well as proper reporting of suspicious transactions".