Citigroup boss Vikram Pandit resigns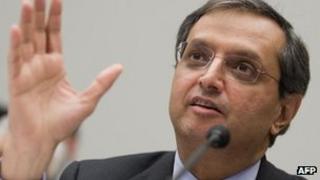 Citigroup chief executive Vikram Pandit has surprised Wall Street by resigning with immediate effect.
Mr Pandit is being replaced by Michael Corbat, who was previously the bank's chief for Europe, the Middle East and Africa.
In a statement, Citigroup praised Mr Pandit for his "leadership, integrity and resilience in guiding Citi through the crisis".
Mr Pandit had been appointed chief executive in December 2007.
News of his departure comes a day after the bank reported an 88% drop in quarterly profits to $468m (£291m).
However, the drop was mainly due to a $4.7bn charge from reducing the value of its stake in the Morgan Stanley Smith Barney joint venture that it is selling, and the overall profit was better than expected.
In a conference call after the markets had closed, Citi chairman Michael O'Neill said Mr Pandit's departure was not due to any "strategic, regulatory or operating issue".
Pressed by analysts to explain what had changed overnight, Mr O'Neill said: "Vikram offered his resignation and the board accepted it."
He added that Mr Corbat "for some time has been at the centre of the board's comprehensive management and CEO succession and planning process".
Mr Corbat paid tribute to his predecessor, saying Mr Pandit had "laid the foundation for Citi's long-term growth".
"I look forward to taking on the challenge of continuing what Vikram started," he said.
Citigroup's president and chief operating officer, John Havens, has also resigned. The bank said that Mr Havens had already been planning to retire at the end of the year, but in the light of Mr Pandit's departure had decided to leave at the same time.
Compensation
The Citigroup boss is credited with slimming the bank by selling businesses and removing it from government ownership after a bailout in 2008.
Mr Pandit earned $1 as his salary in 2009 and 2010 but because of the bank's return to profitability, the board increased his salary to $1.75m and total compensation to $15m in 2011. As part of a wave of shareholder protests over executive pay, Citigroup's stockholders voted against his pay in April in a non-binding vote.
He also received tens of millions from Citigroup when the bank bought his hedge fund in 2007.
In August this year, Citigroup paid $590m to shareholders who had accused the bank of hiding the scale of its exposure to sub-prime mortgages.
Citigroup denied the allegation but said it wanted to avoid further legal costs. The payout is one of the biggest settlements connected to the global financial crisis which began four years ago.
"I think Vikram has some regulatory baggage," said Anthony Polini, an analyst at Raymond James. "I don't think he was very liked by the regulators. I think they, for whatever reason, had some disagreements."
"The announcement of Corbat is a big plus for the company, he has great leadership capabilities."
'Right time'
"Citigroup is well-positioned for continued profitability and growth, having refocused the franchise on the basics of banking," said Mr Pandit.
Last Updated at 08 Dec 2017, 20:59 GMT
*Chart shows local time
| price | change | % |
| --- | --- | --- |
| 75.71 | 0.00 | 0.00 |
"Given the progress we have made in the last few years, I have concluded that now is the right time for someone else to take the helm at Citigroup."
The board said that it respected his decision.
Mr Pandit is well known on Wall Street for his performance at Morgan Stanley, where he worked for two decades until 2005 and became president of that bank's investment banking unit.
He left to set up a hedge fund call Old Lane, which was bought by Citigroup in 2007 for $800m and Mr Pandit moved across to head up the firm's alternative investments, later taking on the bank's whole capital markets unit.
The bank suffered during the financial crisis in 2008, as its share price dropped by more than 70% and it was hit by huge losses of more than $20bn, hurt by bad debts and write-downs on assets hit by the turmoil in credit markets.
Mr Pandit cut 23,000 jobs in 2008 and 52,000 jobs over the next year.
Peter Hahn, banking expert from Cass Business School said a sudden departure would always raise questions, but Mr Pandit's replacement was well respected.
He pointed out that while questions were asked about Mr Pandit's suitability to run Citi when he was appointed because he had little experience beyond investment banking, the same could not be said of Michael Corbat.
"While Mr Corbat comes from a similar investment banking background to Mr Pandit, he's had the last decade overseeing US and international businesses which should help him to make the substantial changes that remain necessary to get Citi in shape for the Basel III world that is rapidly approaching," he said, referring to the next round of stronger regulation for financial firms.