The frustration of the Junior ISA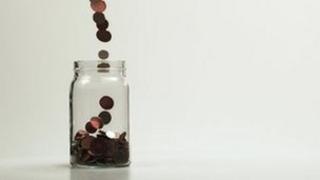 Having children is a joyful experience. But it does come with financial burdens.
Many parents think it's important to save for their child's future, whether for university or for a deposit for their first home.
Last year, the government launched the Junior ISA.
It was designed as a tax efficient way for parents to save, without the government kick-starting the pot with seed money - as it did with with the previous scheme, the Child Trust Fund.
But Junior ISAs have proved difficult sell for the government.
Recent research shows only 32% of families with household incomes below £28,000 have heard of the financial instrument, while 65% of families said they needed more information.
"Each child can have up to two junior ISAs," says Kate Moore, head of savings and investments at Family Investments, which runs Child Trust Funds and Junior ISAs.
"They can have a stocks and shares based one, and a cash version.
"You can have as many people investing into that Junior ISA as you want, as long as they don't exceed the total limit of £3,600 per child."
'Frustrating'
For parents the transition from Child Trust Funds to Junior ISAs has been tricky.
Rachel Davies is Nursery Manager at Little Acorns Day Nursery in Ealing.
Her son Frankie celebrates his second birthday next week. When he was born, she began to think about how to save for his future, but found investigating her options hard going.
She was also concerned about the expense of putting aside extra money at a time when the interest rates paid on many ISAs are low.
"It was frustrating," she says. "I wanted him to have everything he needed when he was older, but I also didn't want to lose all that money, paying £50 a month."
Still, despite the financial burden, she regarded it as important to prepare for Frankie's future.
"There probably wouldn't be the things in place that were in place when I was studying, like [university] grants, by the time he's turned 18," she says.
Risk
Adding to the confusion is that not every child is eligible for Junior ISA.
They have to be born before September 2002 or after 3rd January 2011.
If you were born between those dates, you got a Child Trust Fund, which was automatically opened by the government. Some seed money was inserted into the fund as an incentive.
But the government doesn't contribute seed money to the Junior ISA scheme.
Before you take out a Junior ISA on behalf of a child, there are a number of things to think about.
"You've got to really look and say this investment could be for ten, 15, up to 18 years," says Anna Sofat, director at wealth management service Addidi Wealth.
"You really want to take some risk if you leave it in cash. That cash saving [could] be eroded by inflation."
She recommends for those wanting to take more risk, investing in stock and investment based Junior ISAs that pay dividends.
Parents should also bear in mind that the money saved belongs solely to the child, and is locked away until their 18th birthday.
At that point they can decide what to do with their savings pot.