BSkyB revenues rise as customers choose extra services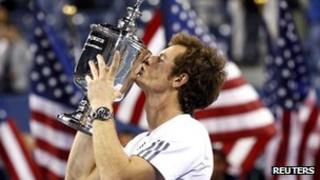 Pay TV group BSkyB said that more customers took on additional services such as broadband and phonelines in the last quarter, boosting its revenue.
BSkyB said pre-tax profit was £288m in the three months to September, compared with £307m last year.
But revenue rose to £1.72bn, up from £1.65bn a year earlier, with the firm adding 48,000 customers in the quarter.
James Murdoch was reappointed as a non-executive director at BSkyB's annual general meeting on Thursday.
Formula One
Announcing the results, chief executive Jeremy Darroch said: "We have made a strong start to the year, delivering another good quarterly performance and continuing to position the business for the long term."
Despite the first price rise in two years kicking in and competition from rivals such as Virgin Media and the YouView catch-up service, Sky TV remained popular.
"Despite market fears over new competition, TV adds (customer additions) continued to grow with 20,000 net adds," Morgan Stanley said in a note to clients. "This puts into perspective recent concerns that Sky might suffer a fall."
Retail subscription revenue grew by 4% to £1.4bn, helped by the launch of a dedicated Formula One channel.
Tennis had a record audience of 4.5 million viewers on the back of Andy Murray's US Open victory.
The number of new households is no longer close to the 100,000-plus pay-TV subscribers it used to sign up per quarter, but the group said that average customer spend had increased as cable subscribers added new services.
Shares in BSkyB closed 7% higher at 759 pence in London.
'Highest integrity'
At BSkyB's AGM, James Murdoch was re-appointed to his director role with only about 5% of voting shareholders refusing to back him.
Mr Murdoch is a non-executive director at the company. He resigned as chairman of BSkyB in April following the phone-hacking scandal at the News of the World newspaper.
BSkyB chairman Nicholas Ferguson defended Mr Murdoch and his position on the board, saying he had shown the "highest level of competence and integrity".
In September, Ofcom criticised him for his role in the phone hacking scandal. The regulator said: "We consider James Murdoch's conduct, including his failure to initiate action on his own account on a number of occasions, to be both difficult to comprehend and ill-judged."
However, Ofcom's inquiry concluded that BSkyB was a "fit and proper" company to hold a broadcasting licence.
James's father, Rupert Murdoch, is the mogul behind the media empire News Corp, which owns 39% of BSkyB.
Public outrage over the phone hacking scandal last year forced News Corp to drop its $12bn (£7.7bn) bid to buy the 61% of BSkyB it did not already own.