Barclays boss 'embracing' ring-fence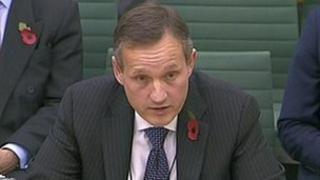 Barclays chief executive Antony Jenkins has conceded that his bank no longer expects the UK banking ring-fence to hurt lending or the UK economy.
"Our position has shifted to... one of embracing this proposal," he said while giving evidence to the parliamentary committee on banking standards.
Barclays had opposed UK plans to force banks to separate their High Street and riskier investment operations.
Meanwhile, HSBC's chairman predicted a "generational change" in bank culture.
Douglas Flint told MPs that, above and beyond the ring-fence and other regulatory changes recommended by the Vickers banking commission, the 2008 financial crisis had overhauled attitudes of bankers themselves.
"I don't think that anyone who has had the experience of what we have been through will ever want to go back to that," he said. "This is a generational change and hopefully beyond that."
'Socially destructive'
"My personal view is that we can accommodate the ring-fence without affecting our capacity to lend," Mr Jenkins told the Parliamentary Commission on Banking Standards, adding that he did not think the separation of banking operations would necessarily affect the UK economy.
His comments contrasted with those of his predecessor, Bob Diamond, who - along with many other senior bankers - had warned a year ago that the ring-fence was unnecessary and expensive, and would cost banks £4bn-7bn to implement.
Crisis jargon buster
Use the dropdown for easy-to-understand explanations of key financial terms:
AAA-rating
The best credit rating that can be given to a borrower's debts, indicating that the risk of borrowing defaulting is minuscule.
Details of the ring-fence are expected to be finalised only by 2015, with the banks then being given a further four years to implement them.
Both bank bosses said they would like to see the regulation in place sooner, although Ana Botin, head of Santander UK, told the committee she thought it more important to get the detail right.
Mr Flint also said that HSBC would delay any decision on whether to shift its headquarters outside the UK until the regulations were fully detailed in 2015.
The most striking aspect of the last decade's credit boom was the increased focus by bankers on short-term results, according to Mr Jenkins from Barclays, who has worked as a banker for some 30 years.
"It's true to say that, particularly in the very heavy growth years of investment banking... teams were often bought away, especially by new entrants to the industry," he said.
Mr Flint blamed bankers' financial incentives, which he said encouraged them to maximise sales rather than provide long-term service to clients.
"The industry... is in the middle of a big change in how we incent our staff," he said, pointing to his own bank's recent decision to abolish sales-based commissions.
Both he and Mr Jenkins agreed that a lot of banking activities - particularly the practice of "proprietary" trading, or bank traders speculating on the markets - should not be allowed in future, not even in the non-ring-fenced part of banks.
The banking industry needed to eliminate "socially useless activity", according to Mr Jenkins. "The level of trading was clearly taken beyond the level of excess. It became socially destructive."