Barack Obama re-election turns focus to budget clash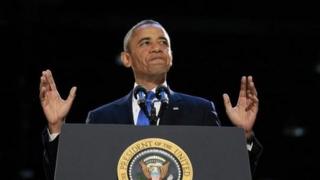 A looming clash over US budget measures is now set to become the focus of investor attention following the re-election of Barack Obama.
President Obama needs to secure a deal with the US Congress to avoid the so-called "fiscal cliff".
This refers to the $600bn (£375bn) of tax rises and spending cuts that are due to hit the US economy in January.
US shares fell more than 2%, but this was also due to renewed concerns about the eurozone economy.
Following news that the European Commission had downgraded sharply its growth forecast for the EU and eurozone, the main US index, the Dow Jones, closed down 313 points, or 2.4%, at 12,933, its lowest level since early August.
The UK's FTSE 100 closed 1.6% lower, and Germany's Dax lost 2%.
Tough talks
The tax rises and spending cuts in the US are currently due to come into force across a number of days in January.
They include everything from the end of a tax relief scheme for middle earners, to a reduction in how much doctors are paid by Medicare, the government-administered healthcare programme.
Some of the tax rises apply to the timetabled end of relief schemes started during the administration of George W Bush.
The fear is that if the fiscal cliff is not avoided, it may derail a fragile US economic recovery, and in a worst case scenario even push the economy back into recession.
However, President Obama, a Democrat, faces a difficult challenge in securing a deal with Congress because the opposition Republican party has maintained a majority in the House of Representatives, the lower house of Congress.
The Republicans want to see a general fall in federal spending to help reduce the US budget deficit, and the amount of money that the administration has to borrow to cover the shortfall.
The Democrats also want to reduce the deficit, but favour doing so more through higher taxes, primarily on higher earners.
The BBC's economics editor, Stephanie Flanders, said that half of the timetabled tax rises and spending cuts may come into force, but others would be harder to reach agreement on "with both sides so angry".
"The Republicans don't want to see defence spending cuts, which will happen if they don't reach a deal, but the Democrats are just as keen to ensure that the very richest see tax rises, something that the Republicans don't want to see.
"So I don't think we are going to see an early solution on that unless Republicans decide this was a real mandate for Obama's policies, and I'm not sure they will given that it was still relatively close."
Last Updated at 05:54 GMT
| Market index | Current value | Trend | Variation | % variation |
| --- | --- | --- | --- | --- |
| Dow Jones | 23157.60 | Up | 160.16 | 0.70% |
| Nasdaq | 6624.22 | Up | 0.56 | 0.01% |
| FTSE 100 | 7542.87 | Up | 26.70 | 0.36% |
| Dax | 13043.03 | Up | 47.97 | 0.37% |
| Cac 40 | 5383.81 | Up | 22.44 | 0.42% |
| BBC Global 30 | 10301.36 | Down | -43.61 | -0.42% |
Jeff Cleveland, senior economist at US investment fund Payden & Rygel, told the BBC that he expected the fiscal cliff to be avoided.
"I think we will get through the next couple of months, I think there will be some sort of deal or negotiation, and we will move onto a lower unemployment rate and stronger economic growth," he said.
Business commentator Daniel Costello, managing director of financial advisory firm Titan Advisers, said it would be "extremely painful [for Americans] if these cuts were allowed to go through".
However he thinks there will be some sort of compromise: "President Obama has privately and aggressively in recent months been pushing for what he is calling a grand bargain, which would be a compromise with the Republicans of some tax increases, but also cuts in entitlement [benefit] spending, particularly around healthcare.
"Republicans are weakened after this election… which has weakened Republican ability to counter some of President Obama's wishes and demands around the fiscal cliff."
Broader concerns
The US economy has been battling various other issues, not least the high levels of unemployment in the country, which have dented consumer sentiment and impacted growth.
Despite encouraging jobless numbers last week, unemployment continues to hover close to 8%.
There are concerns amongst some analysts that the jobs market may not improve anytime soon and that the recovery in the US will remain weak.
The US dollar fell slightly following the election result, with analysts noting that President Obama's re-election meant the Federal Reserve was likely to stick to its policy of quantitative easing (QE) which tends to weaken the currency.
However, following the gloomy economic forecasts from Europe, the euro dropped to a two-month low against the dollar of $1.2749.