Balfour Beatty in profit warning as building projects slow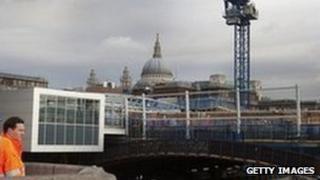 Balfour Beatty, the construction company that specialises in large infrastructure projects, has issued a profit warning.
Blaming weak construction and rail markets across Europe, the company expects full-year profits to be at least £10m lower than expected.
Lack of infrastructure spending has reduced its order book to £14.4bn, down from £15bn at the end of June.
The company said conditions would remain difficult into 2013.
In an interim management statement, covering the third quarter from 30 June to 7 November, the company said its professional services division had "continued to perform well".
Last Updated at 15 Dec 2017, 16:21 GMT
*Chart shows local time
price
change
%
279.00 p

+

+1.40

+

+0.50
But construction in the US had slowed and the UK had seen "further market deterioration".
Rail construction in particular was suffering, with activity in Italy and Spain at a "critically low" level.
To compensate for the lack of major infrastructure projects Balfour Beatty has undertaken a £50m cost-saving drive, announced in March, which will see 650 back office jobs go by the end of 2012.
The company, which is currently rebuilding Blackfriars station in London, operates in 80 countries worldwide.
Its shares dropped 12% in morning trading, following the release of the trading statement.