Madoff feeder fund at BNY Mellon agrees $210m payout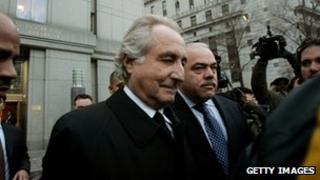 An investment fund has agreed to pay out $210m (£132m) to settle claims by investors to whom it recommended the fraudster Bernie Madoff.
Plaintiffs said they lost more than $236m after Ivy Asset Management, part of Bank of New York Mellon, advised them to invest in Madoff's ponzi scheme.
As a "feeder fund", Ivy collected $40m in commissions for this advice.
Madoff was convicted in 2009 of operating the biggest fraud in history.
Investors lost $17.3bn from the fraud, of which 58% has been recovered. Madoff is serving a 150-year prison sentence.
The fraudster claimed that money invested in his fund had earned a steady and unusually high return over decades.
In reality, he relied on increasing amounts of money being put into the fund by new investors in order to pay out the bogus return to existing investors.
The steady inflow of new money was in large part provided by feeder funds, of which Ivy was accused of being one.
New York Attorney General Eric Schneiderman - who, along with several private claimants, filed the lawsuit against Ivy - said he expected the payout, plus a further $9m provided by other defendants in the case, to come close to making up all of the losses of the investors who were advised by Ivy between 1998 and 2008.
"Ivy Asset Management violated its fundamental responsibility as an investment advisor by putting its own pecuniary interests ahead of the interests of its clients," said Mr Schneiderman.
"Ivy deliberately concealed negative facts it uncovered in its due diligence of Madoff in order to keep earning millions of dollars in fees. As a result, its clients suffered massive and avoidable losses."
Among the investors advised by Ivy were 78 pension funds from upstate New York, who collectively lost about $138m.
Labor Secretary Hilda Solis said that the settlement "provides a measure of justice for those Americans who worked hard to prepare for their retirement and then saw hoped-for stability disappear".
Ivy said that it was "pleased to have reached an agreement that allows it to put these matters behind it".