Cisco profit jumps 18% amid higher sales and cost cuts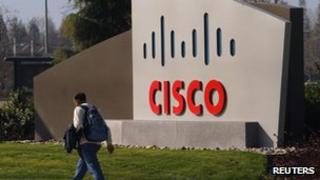 Profits at Cisco, the world's largest maker of networking equipment, have jumped, helped by increased sales and cost cutting measures.
Net profit rose 18% to $2.1bn (£1.3bn) in the three months to 27 October 2012, compared to last year.
Cisco said that it was seeing "signs of improvement" in the US market, but warned that conditions in Europe remain uncertain.
Its shares rose nearly 7% in after-hours trading in the US.
"Given [the] concern about enterprise spending, the company seems to be bucking the trends," said Bill Kreher, senior technology analyst at Edward Jones.
"The bar was low but the company did exceed those expectations," he added.
'Strong cost discipline'
Global firms have been hurt by the slowdown in the US and eurozone, two of the biggest economic regions in the world.
While the American economy is showing signs of recovery, the eurozone debt crisis remains a big threat.
"We are modeling Europe to get worse before it gets better," said John Chambers, the chief executive of Cisco.
Faced with slowing demand and increased competition, Cisco has implemented various measures to reduce costs and sustain its profitability.
It has announced a restructuring programme that aims to cut expenses by about $1bn.
Earlier this year, it said it would cut 1,300 jobs or 2% of the 65,000 strong workforce. Last year, the company shed 10,000 posts.
Analysts said the measures have had a positive impact on its profits.
"The company appears to be using strong cost discipline in meeting their numbers," said Bill Kreher at Edward Jones.