Greece's economy shrinks further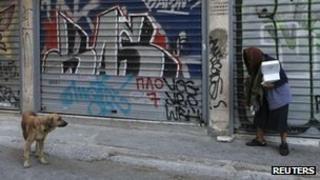 The Greek economy shrank 7.2% in the third quarter compared with the same period a year earlier, statistics agency Elstat has said.
That was a deeper contraction than the 6.3% fall seen in the second quarter.
Greece has been in recession since late 2008 and has been granted two bailouts from the European Union and International Monetary Fund (IMF).
Also on Friday, the IMF called for "a real fix, not a quick fix" to make Greece's debt sustainable.
Greece is not expected to be able to reduce its debt to 120% of GDP by 2020, which is a condition of its bailout deal. Eurozone countries are in favour of giving Athens an extra two years to reach that level, but the IMF disagrees.
Meanwhile, the organisation that represents Greece's private sector lenders said the country needed a softer pace of fiscal adjustment.
"Europe and Greece need to steer a new course to find a better balance between austerity and growth," said Charles Dallara, managing director of the Institute of International Finance (IIF).
"Greece now urgently needs greater emphasis on growth. Europe needs the same."
Anti-austerity strikes
Greece's private sector lenders have already agreed to a "haircut" or reduction of 74% in the amount owed to them by Greece, as a pre-condition to Athens receiving its second bailout earlier this year.
However, it has become increasingly clear that even after this debt write-off, the Greek government's borrowing remains at an unsustainably high level.
The more time that Greece is given to get its deficit under control, the more debt it will rack up in the meantime.
Crisis jargon buster
Use the dropdown for easy-to-understand explanations of key financial terms:
AAA-rating
The best credit rating that can be given to a borrower's debts, indicating that the risk of borrowing defaulting is minuscule.
There has been growing talk of official lenders - including the European Central Bank, the eurozone's bailout funds and even the IMF - also having to accept losses on the loans they have provided, something that none of the official lenders have been willing to countenance so far.
Athens is awaiting its latest tranche of bailout funds.
Eurozone finance ministers will meet on 20 November to discuss releasing the latest 31.5bn euros (£25.2bn; $40bn) as they seek agreement on how to make Greece's debt sustainable going into the next decade.
Portugal's recession also deepened in the third quarter, the country's National Statistics Institute (INE) said.
The economy contracted 3.4% year-on-year, more than the 3.2% drop seen in the second quarter.
The country is experiencing its worst recession since the 1970s, with export growth slowing and domestic demand hit by an austerity programme imposed under its international bailout.
Public opposition to austerity has sharpened in Portugal in recent months.
There are currently general strikes in Portugal and also in Spain, as workers across Europe stage a series of protests against rising unemployment and austerity measures.
Smaller strikes were reported in Greece, Italy and Belgium, while rallies were planned in other countries.