Wal-Mart sales slow as customers feel the pinch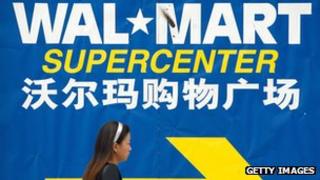 Sales growth at Wal-Mart has fallen short of market expectations, with the world's biggest retailer saying customers are feeling the pinch.
Sales at stores open over a year rose 1.5% in the three months to 31 October from a year ago. Markets expected 1.8%.
Sales in Japan fell, as did traffic at its Chinese stores.
Despite this, net profits were $3.6bn (£2.3bn), up 9%, meeting expectations. Wal-Mart said full-year profits would be at the top end of earlier guidance.
But markets focused on the poor sales growth, and shares in Wal-Mart fell more than 4% in morning trading on Wall Street following the results release.
'Price consciousness'
The firm also said it had broadened an internal inquiry into possible bribe-paying by company employees.
In April, the New York Times alleged that Wal-Mart had paid $24m in bribes to Mexican officials in order to win business, in contravention of the US Foreign Corrupt Practices Act (FCPA).
The company said it had now expanded its investigation from Mexico, to include Brazil, India and China, and had spent over $35m on FCPA compliance in the last 18 months.
"Price will continue to be a major factor for US customers over the holidays," said chief executive Mike Duke. "Across all of our markets, we are seeing the same price consciousness as we do in the United States.
Last Updated at 12 Dec 2017, 20:59 GMT
price
change
%
96.70

-

-0.23

-

-0.24
"More customers are part of a growing global middle class, looking for quality, value and a better life."
Net sales in the three months to 31 October rose 3.4% from a year earlier to $113bn.
It was Wal-Mart's fifth quarter in a row of growing sales - and follows an earlier period of decline that had lasted more than two years - but the slower rate of growth nonetheless disappointed analysts.
Executives said the slowdown was due in part to its decision to cut prices on some food and electronic items.
Sam's Club - the company's membership-based discount warehouse chain - saw sales growth of 12.7%, providing further indication of the importance of low prices for American consumers.
On Wednesday, the US Department of Commerce revealed that retail sales across the US had fallen by 0.3% in October from a month earlier. They were up 3.8% from a year ago, well below the 6% growth rate averaged over the last two years.
However, Wal-Mart said that its US sales were beating expectations so far this month.
Meanwhile, its international sales rose by just 2.4% in the quarter, although Wal-Mart said this was largely due to the effect of the strong dollar depressing the value of foreign sales when converted into Wal-Mart's reporting currency.
Surprisingly, the company said that the number of customers at its stores in China fell 7.6% in the quarter, although greater spending per customer meant that revenues in the country did rise modestly.
In Japan, sales dropped 1.8%. However, Wal-Mart said that it had nonetheless probably increased its share in what has been a shrinking market, as government data indicated that total supermarket sales had fallen 2.5% over the same period.
The firm's UK supermarket chain, Asda, also reported a slowdown in sales, prompting Asda's chief executive Andy Clarke to call on the British government to scrap plans to raise fuel duty, which he argued was coming at the worst possible time for families faced with rising energy costs.