Party leaders dominate CBI conference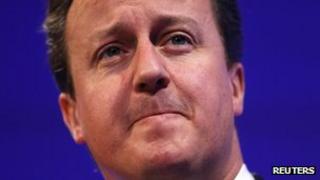 The CBI may be one of the UK's leading business organisations, but its 2012 annual conference was very much more of a political event.
With both Prime Minister David Cameron and Labour leader Ed Miliband giving speeches, not to forget Business Secretary Vince Cable and London Mayor Boris Johnson, the focus was definitely more on political points scoring than exploring best business practice.
The two party leaders chose to speak to the more than 1,000 delegates at London's Grosvenor House hotel about completely different subjects.
For Mr Cameron, the event was used as an opportunity to announce the government's latest initiate to cut red tape, something that always appeals to CBI members.
He said he would reduce the number of legal appeals against new government policies. Explaining that he wanted "people to think twice about time wasting", Mr Cameron said he would cut the time period during which appeals could be made, and charge people more for making them.
"As someone once said, if Christopher Columbus had an advisory committee he would probably still be stuck in the dock," said the prime minister.
Equating the fight against unnecessary bureaucratic obstacles with "beating Hitler", he said the UK now needed the attitude to compete in the global economy.
"This country is in the economic equivalent of war today - and we need the same spirit," said Mr Cameron.
"We need to forget about crossing every tee and dotting every i."
'Sleepwalking'
Ed Miliband, yet again choosing to speak without notes, used his speech to support the UK's continuing membership of the European Union (EU).
Coming just a few weeks after Labour MPs joined with Conservative rebels to vote for the European Union to reduce its annual budget, Mr Miliband was now seemingly the EU's biggest supporter.
"Increasingly we see euro-scepticism on the rise in the British public," he told the pro-EU membership CBI. "We see Cabinet ministers calling for us to withdraw.
"I cannot let us sleepwalk towards pulling out of the European Union."
Admitting that the failings of the eurozone had increased the scepticism of people in the UK, Mr Miliband said Europe was vital to the UK's economy, and that therefore it should remain at the heart of the EU to help fashion its future development.
'Passionate'
Both Mr Cameron and Mr Miliband's speeches got a warm welcome from delegates.
Angela Rushforth, group managing director of building materials group Ridgeons, rated Mr Miliband's speech as "very good".
"I thought it was very impressive that Ed Miliband was speaking again without notes," she said. "He was very passionate, and it was very interesting."
Meanwhile, Hugh Piper, operations director at recruitment group Manpower, welcomed Mr Cameron's latest efforts to tackle red tape.
"It was good to hear that he is ready to take real action, to tackle the excess bureaucracy that has been hampering us."
Perhaps appropriately for someone with the job of Business Secretary, Vince Cable was the politician whose speech was most focused on helping the business community.
He highlighted the continuing work the government is doing to help boost the UK's engineering sector, such as financial support to increase the number of apprenticeship places.
"Time and again, large manufacturing companies come to my department and tell me they are worried about looming shortages of skilled engineers," he said. "It is one of my major priorities as business secretary to address this problem."
'Rouble-fuelled refreshers'
By contrast to Mr Cable's understated delivery, Boris Johnson's speech was a joke-filled celebration of London as a place to do business - or for billionaire Russians to fight very expensive legal battles.
He said: "I would never encourage anybody to sue, but if one oligarch feels defamed by another oligarch, it is London's lawyers who apply the necessary balm to the ego.
"And it is those rouble-fuelled refreshers and retainers that find their way into the pockets of chefs and waiters, and doormen and janitors, and nannies and tutors, and actors and aromatherapists."
On a more serious note, Mr Johnson called for the UK's top rate of income tax to be reduced to make it more attractive to the highest earners, and reiterated his call for a new London airport to be built in the Thames estuary.
Outside of the political posturing, there was time for a group of business leaders to discuss their thoughts on the economy and how they run their firms.
Harriet Green, chief executive of travel firm Thomas Cook, told delegates that 72% of people who made the buying decision on where to go on holiday were women.
She added: "My own passion is the service, you have to be committed to making the customer feel good."
For Rupert Soames, chief executive of power generation rental business Aggreko, UK firms should look to emerging markets for an easier battle.
"The task [of running a business] in rich countries is like the battle of the Somme, a grinding struggle from fixed positions to gain ground or market share a yard at a time," he said.
"But in emerging markets, the war is much more fluid, and replete with opportunity."