CBI calls for 'industrial Olympics' to boost economy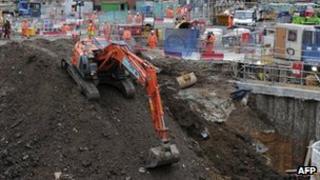 The government should launch "an industrial Olympics" to help encourage sustained growth in the economy, the CBI business organisation has said.
It has also called on the government to commit £1.5bn of unspent funds to measures including road upgrades.
The CBI said government departments underspent by almost £8bn last year due to cost cutting.
The Treasury said it was committed to supporting the private sector, but the underspend was not that high.
The CBI says the government should back the construction sector, by introducing measures including investment tax breaks, and a cap on business rates, up to a value of £1.5bn in the first instance.
This should include £200m for local authorities to spend on upgrading roads next year, the CBI said, and a lending facility of up to £500m for companies buying UK exports.
'Real difference'
Earlier this year, the government said it would underwrite up to £40bn of investment to try to kick-start building projects that have stalled due to the lack of finance.
The first project to be supported under the scheme, the Crossrail line linking east and west London, was announced in September.
However, CBI director general John Cridland is frustrated by the lack of action on initiatives such has this, as well as the idea of getting pension funds to invest in infrastructure, and wants to see more progress.
"We need an industrial Olympics, with big schemes which can make a real difference," he said.
Mr Cridland highlighted the need to bring forward improvements in the UK's rail and road networks, including the £500m Heathrow-Reading rail link and the £560m Northern Hub rail scheme to upgrade the rail network in the North West of England.
The CBI also pointed to the £4.1bn Thames Tideway scheme, a major private sector-funded project involving the construction of a 15 mile tunnel which aims to improve London's sewerage system and reduce outflows into the River Thames.
The latest update from Thames Water on the project, which was given the go-ahead in 2007, said it hoped to finalise finance within the year.