Cisco to buy US cloud computing firm Meraki for $1.2bn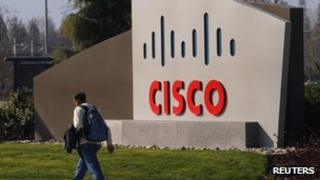 Cisco, the world's largest maker of networking equipment, has agreed to acquire the cloud computing company Meraki for $1.2bn (£750m).
Meraki offers services that help firms to manage their networks using the internet.
Cisco has been keen to expand in cloud computing, which allows users to store and manage data over the internet, as opposed to traditional hardware.
The sector is seen by many as a future area of growth for technology firms.
Meraki's services, targeted at mid-sized businesses, are used by more than 10,000 companies.
"The acquisition of Meraki enables Cisco to make simple, secure, cloud managed networks available to our global customer base of mid-sized businesses and enterprises," Rob Soderbery, senior vice president, Cisco Enterprise Networking Group said in a statement.
"Meraki's solution was built from the ground up optimized for cloud, with tremendous scale, and is already in use by thousands of customers to manage hundreds of thousands of devices," he added.
This is the second purchase that Cisco has announced in the past few days.
Last week, it agreed a $125m deal to acquire Cloupia, a firm that specialises in data centre management.