Bank of England split on quantitative easing impact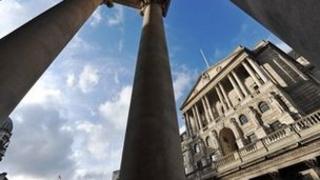 One member of the Bank of England's Monetary Policy Committee voted for more quantitative easing (QE) earlier this month, meeting notes have shown.
The minutes of the November meeting also showed that "views differed over the exact impact" of QE.
David Miles voted to inject a further £25bn into the UK economy, over and above the £375bn already committed under the asset purchase programme.
The eight other members voted not to inject more money.
However, all nine members of the committee voted in favour of keeping interest rates at a record low of 0.5%.
Quantitative easing is the scheme in which the central bank buys government bonds, hoping to stimulate the economy.
"A case could be made for a further easing in monetary conditions," the minutes said, noting that output could be expanded without creating additional inflationary pressure.
"Different members placed different weights on those arguments."
The Bank has previously hinted that more QE was "more likely than not to be needed in due course".