Twinkies firm Hostess Brands wins liquidation bid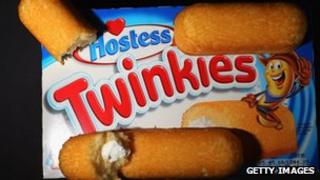 A US bankruptcy judge has given the go-ahead for the liquidation of Hostess Brands, owner of some of the country's best known food brands, including cream-filled sponge snack Twinkies.
The hearing was delayed from Monday to allow for last-ditch talks with unions, but those failed.
As a first step in the liquidation of the company, Hostess is expected to lay off about 15,000 of its employees.
But Hostess' advisers are confident that parts of the business can be sold.
In a statement, the company blamed the need for liquidation on a strike by the Bakery, Confectionery, Tobacco and Grain Millers (BCTGM) union, which started on 9 November.
Hostess Brands had sought protection from its creditors through Chapter 11 bankruptcy in January, but said it could not afford to continue operating through a strike.
The BCTGM blamed the company's problems on years of mismanagement and being saddled with debt by private equity owners.
But Hostess said: "The wind-down was necessitated by an inflated cost structure that put the company at a profound competitive disadvantage", adding that the main problem was its collective bargaining agreements with its staff.
'Iconic brands'
One of the firm's lawyers said there had been a "flood of enquiries" about buying some of the brands.
Advisers to Hostess Brands said they had been showing a potential buyer for the Drake's cakes brand around the factory in New Jersey on Tuesday.
"These are iconic brands that people love," said Joshua Scherer from Perella Weinberg Partners.
Hostess expects to keep on about 3,200 staff to help shut down its properties, but only about 200 of them are likely to still be employed at the firm by the end of March.
Hostess said the liquidation would mean the closure of 33 bakeries, 565 distribution centres, approximately 5,500 delivery routes and 570 bakery outlet stores.