Aston Martin owner denies receiving two offers for firm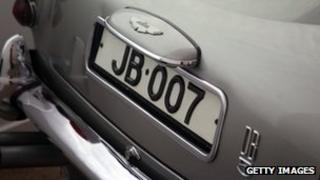 The owner of Aston Martin, Kuwait's Investment Dar, has denied reports it has received competing bids for a 50% stake in the luxury British car brand.
Italian private equity fund Investindustrial is widely reported to have made an offer of nearly £250m ($400m) for Aston Martin.
India's Mahindra and Mahindra is understood to have made a higher offer.
But in an interview with Kuwait's Al Watan newspaper Investment Dar chairman Adnan Al Musallam denied the story.
Earlier this month, Investment Dar dismissed a Bloomberg story which said it was looking to sell its stake in the British car maker as having "no truth to it".
At the time, the investment house said it had "a long-term plan and commitment with Aston Martin and has no plans to sell its stake in Aston Martin in the short term".
Despite that statement on 12 November though, reports of a bidding war between Investindustrial and Mahindra and Mahindra have become more widespread.
Mahindra and Mahindra declined to comment, while Investindustrial could not be reached.
Aston Martin, based in Gaydon, Warwickshire, will celebrate its 100th anniversary next year.
Its cars have been immortalised in James Bond films over the last few decades.
The company was sold in 2007 by Ford for £479m to a consortium of Investment Dar and another Kuwaiti investment fund, Adeem Investment.
The consortium was fronted by Dave Richards, former Formula One Benetton and BAR boss, who remains as chairman of Aston Martin.
The new owners targeted higher sales in China, but sales in the UK and North America have been hit in the financial crisis.