Greece: EU ministers meet for third time for aid talks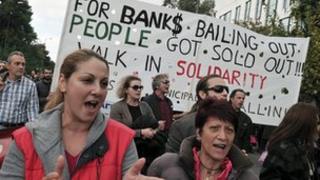 Eurozone finance ministers are meeting in Brussels to discuss the next instalment of bailout money for debt-laden Greece.
Greece is due about 31bn euros ($40bn; £25bn) in bailout loans.
Ahead of the meeting, eurozone ministers said they were close to reaching an agreement.
It is the third such meeting in three weeks. Greece was supposed to get the money back in May, and is being kept afloat on emergency loans.
The meeting is aimed at reaching agreement among the 17 eurozone members about creating a plan to return Greece to financial health.
The European Union's economic and monetary affairs commissioner, Ollie Rehn, said it was vital a deal was struck for Greece.
"It is important for Greece, important for Europe and I want to encourage all the euro area member states and the IMF to go the last mile in order to find an agreement, in fact go the last centimetre because we are so close to an agreement," he said.
"This is essential now, and Greece has delivered. Now it is delivery time for the Eurogroup and the IMF."
'No blame'
Talks began at about 11:30 GMT and are expected to go through the night. Last week, following nearly 12 hours of talks in Brussels, the Eurogroup said it needed more time for technical work.
"For once, it would seem, Greece can take none of the blame," said Carsten Brzeski, an analyst at ING bank.
France's finance minister insisted at the time that they were a "whisker" away from a deal.
On Monday, Pierre Moscovici added: "Let's assume our responsibilities and come out of this with a deal. All the parameters for a solution are on the table."
German Finance Minister Wolfgang Schaeuble said: "We will find a solution, I'm optimistic, we have worked well. I hope we don't have to negotiate until the late hours. We are prepared to come to a solution and I think we will manage today."
The ministers also need to reach agreement with the International Monetary Fund over how best to keep Greece funded and reduce its debt, which is expected to reach 190% of its gross domestic product next year.
They want to get that rate down to 120% in the next eight to 10 years.
Until they can agree on how best to do that, they are reluctant to release any more loans to the country for fear the support will become permanent.
Eurozone ministers favour giving Greece an extra two years, to 2022, to bring its debt to 120% of GDP, but the IMF has resisted that extension.
Spanish Economy Minister Luis de Guindos said: "I think we are very close, we need to agree on Greece's debt level. It is crucial to reach agreement, it would be a message of confidence, not just for Greece, but for the whole eurozone. It is important to send out a clear political message."