Lloyds TSB switching letters sent out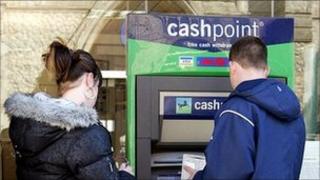 Millions of Lloyds TSB customers will receive letters from Wednesday explaining that their accounts will be moved to a new provider.
Some 3.5 million customers will receive the letter before Christmas telling them that their accounts will be moved to a new bank owned by the Co-operative.
This will be the first time they have been told officially by their bank that their accounts are to be moved.
The new bank will be called TSB.
In the letter, customers will not be explicitly told they can opt to stay with Lloyds.
But in fact they can register their wish to do just that, either by phone or in the branch, and they will not need to make a final choice until next year.
Those who are switched will see their account numbers and interest rates stay the same.
A total of 283 Lloyds TSB branches in England and Wales will move over to the Co-op, along with 164 branches of Cheltenham & Gloucester, and 185 Lloyds TSB Scotland branches.
The hiving off of the 632 branches, along with their customers, was required by the European Commission after Lloyds benefited from a bailout from the taxpayer during the financial crisis and grew to a dominant size.
These same branches will form the new operation, but Co-op's ownership means that it will become a much more significant player in financial services.