Qantas cuts ties with Tourism Australia over chairman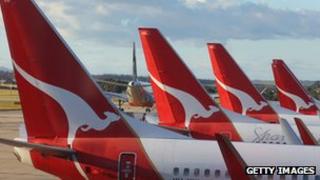 Qantas said it has severed ties with Australia's official tourism agency over its chairman's 'conflict of interest'.
Qantas informed the tourism ministry it was suspending a A$50m ($52m; £32m) marketing deal.
Tourism Australia's chairman, Geoff Dixon, who is a former Qantas chief executive, is part of a group of investors reportedly seeking changes at the airline.
The move ends a 40 year partnership.
"This conflict has arisen from the involvement of Tourism Australia's chairman with a syndicate that is actively canvassing fundamental changes to the Qantas Group strategy, including the proposed partnership with Emirates," Qantas said in a statement.
Mr Dixon was in charge at the national carrier between 2001 and 2008, after which the current chief executive Alan Joyce took over.
"Qantas cannot continue to collaborate with an agency whose chairman is a member of a syndicate committed to unravelling Qantas' structure and direction."
However, the airline said this did not mean Qantas would stop supporting the tourism industry in Australia.
"Not one dollar will be removed from tourism marketing as a consequence of this decision.
"Rather than providing this support through the federal agency, Qantas will instead look to do so through the states," it said.
The carrier also said some key initiatives already underway would not be halted.