Thomas Cook sees losses widen on higher fuel costs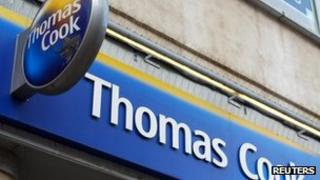 Struggling travel group Thomas Cook has reported widening annual losses due to reduced capacity and higher fuel costs.
Pre-tax losses for the year to the end of September were £485.3m, up from £398.2m the previous year.
Revenue fell to £9.5bn from £9.8bn in what the company described as a "difficult trading environment".
Despite the loss, the company said the final quarter had been a "major improvement" on a year ago and added it was "optimistic about the future".
"These results reflect the major issues that Thomas Cook faced last year, but they mask the material improvement that we made in the fourth quarter," said Harriet Green, who took over as chief executive in the summer.
The company also said it had reduced its debts by more than £100m over the period, to £788m from £891m.
Lower bookings
Thomas Cook said plans to stabilise the business in the UK were now complete, with the closure of 149 shops contributing to significant cost savings and an improvement in profit margins.
Bookings in the UK during the year were down 2%, however, while they fell by 9% in west Europe and by 3% in north Europe. Bookings in Germany were up by 9%.
The company has struggled with high debt and the wider downturn in the global travel sector.
It got into particular difficulty last year when the unrest in the Middle East and North Africa affected its operations in Egypt and Tunisia.
In May this year, the group secured a £1.4bn refinancing package, giving it a further three years to repay its debts.