Warren Buffett: Fiscal cliff talks could miss deadline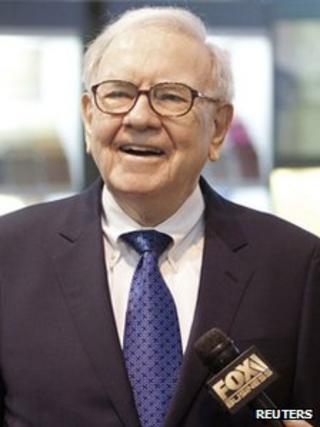 Billionaire investor Warren Buffett believes the US fiscal cliff may be solved by January rather than December.
Congress has until 31 December to cut a deal to stop existing economic stimulus measures terminating and huge automatic spending cuts coming into effect.
While Mr Buffett said politicians may miss the deadline, he thought a deal would follow shortly after.
On Tuesday Senate majority leader Harry Reid said talks had made "little progress", sending stock markets lower.
"They talked some happy talk about doing revenues, but we only have a couple weeks to get something done," Mr Reid, a Democrat, said of negotiations between his party and the Republicans.
'D-Day is here'
Although he qualified his remarks by saying he was "extremely hopeful" and did not believe that the Republicans were going to "allow us to go over the cliff", his comments prompted stock markets worldwide to fall about 0.5% on average.
Democrats control the Senate and the Presidency, while Republicans control the House of Representatives - the second chamber of Congress - and enjoy a blocking "filibuster" minority in the Senate. Both parts of Congress and the President have to come together to broker a deal.
Warren Buffett has advocated raising taxes on the most wealthy Americans such as himself - in particular via an increase in capital gains tax, from which high earners benefit disproportionately, due to their large investments.
Speaking to the Marketplace programme on American Public Media - a US partner of the BBC - he said that the fiscal cliff presented an opportunity to achieve this goal.
"We've kicked it down the road for a long time, but D-Day is here," he said. "That doesn't mean that we'll get the fiscal cliff solved by December 31 - I hope we do - but it may go over into January.
"But we are going to have to address important policy questions and I think Congress knows it, and the president knows it, and certainly the American public knows it."
Both US parties have accused the other of intransigence in negotiations.
Most Republican members of Congress have promised not to raise taxes, making it hard for them to agree to allow expensive income tax cuts dating from George W Bush's presidency to expire at the end of the year.
However Democrats, including President Barack Obama, have insisted that the tax cuts for those earning more than $250,000 (£156,289) must not be renewed.
On Wednesday, Mr Obama said a failure to extend Bush-era tax cuts for households with income below $250,000 would hurt the world economy.
Meanwhile Republicans accuse Democrats of refusing to rein in "entitlement programmes" - commitments to provide medical care and retirement benefits, which are set to rise substantially as the post-war baby boom generation retires this decade.
In his remarks, Mr Buffett played down the ideological differences between the two sides.
'Out of bullets'
"I would say that 90% of the Republicans and 90% of the Democrats understand that you have to raise about 18.5% or thereabouts of GDP [annual economic output] in revenue, and they know that you can spend about 21%, and it'll work out okay," he said.
"They also know that the present course is not sustainable."
However, he added that the Republicans were scared of the "far right" of their party, and that this meant the conservative side may not come round to an agreement, at least not before the end of the year.
The billionaire also claimed that the US Federal Reserve had "used up their bullets" - having cut rates to zero and bought up $2 trillion of debts from the markets.
The Fed's chairman Ben Bernanke "has given it the office, now it's up to Congress", Mr Buffett said.