CBI pushes for Autumn Statement to boost growth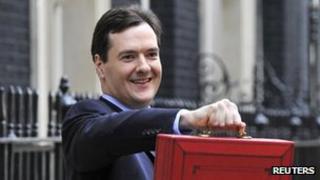 The CBI business group is asking Chancellor George Osborne to use windfall money to help boost economic growth.
It says the government can do this and stick to its deficit reduction programme, of which it approves.
The CBI says the UK has extra resources from the £7.8bn underspent last year and the £4bn estimated to be raised from the 4G phone network sell-off.
It says £1.5bn of this should be spent on short-term, high-impact measures.
The suggestion is among the many the chancellor will be looking at as he prepares to present his Autumn Statement, which reports on the state of the economy and outlines changes to government economic policy.
Mr Osborne will present the statement to parliament next Wednesday.
The CBI is also pushing the case for a business bank, which it thinks can help ease the transition to a "new normal" of business lending from the lower lending levels that have characterised the years since the credit crunch began.
Balance
On pensions, it warns against cutting pension tax relief, something the chancellor is thought to be considering for wealthier pensioners.
CBI director-general John Cridland said: "Lowering the [tax relief] threshold below £50,000 is not a wealth tax - it's an income tax which would hit swathes of middle-income earners."
Mr Cridland said though that any spending or lost savings from these measures should not derail the government's overall economic programme of getting tax and spending into balance.
"The CBI fully supports the government's deficit reduction plan," he said.
"This is critical for the UK to keep the confidence of international markets."