West Coast franchise official loses latest job bid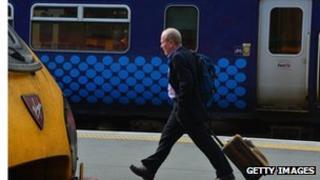 The most senior of the three officials suspended after the collapse of the West Coast Mainline rail contract has failed in her latest legal bid to be allowed back to work.
Kate Mingay took the Department for Transport to court in an attempt to quash her suspension, which she says is casting a shadow over her reputation.
She insists she did nothing wrong.
Mr Justice Kenneth Parker adjourned her case until the DfT digests an internal report into who was responsible.
The report is due to be handed to officials on Monday night.
So there wasn't a legal result today, as such, but the lawyers did cast a little more light on what exactly is going on behind the scenes at the DfT, while they try to sort the West Coast mess.
We now know there is an internal report, conducted by Bill Stow, a retired former director general at the Department for Environment, Food and Rural Affairs, that is going to name names.
This is the report that might just cost people their jobs, and that is precisely why it won't be made public. Yes, we will still see the Sam Laidlaw report into what went wrong, but that is far less likely to single people out for criticism.
We also know that the DfT is not accusing Kate Mingay of "gross misconduct". The court was told the DfT feels there is "evidence to suggest her conduct fell below the standards expected", but, in theory, if the Stow report clears her, she can go back to work the same as before.
Kate Mingay's legal team also told the BBC that Thursday was the first time she has been told the full details of the case against her, despite pressing officials for nine weeks.
In summing up, the judge talked about just how complex the whole farrago is. We are still a long way from finding out exactly who did what, and why.