Supermarket fine threat over Groceries Code breaches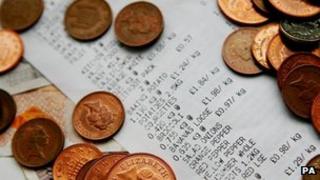 Supermarkets who mistreat their suppliers could be fined by a new watchdog, the government has said.
The groceries adjudicator will rule on disputes between retailers and suppliers and will be able to name and shame offenders or impose fines.
Under the original plans, retailers who breached the Groceries Code would not have been fined.
The adjudicator will only rule on complaints about the 10 biggest supermarket chains.
"Where supermarkets are breaking the rules with suppliers and treating them unfairly, the adjudicator will make sure that they are held to account," said Competition Minister Jo Swinson.
"We expect fines to be used as a last resort, but the fact that the adjudicator has the power to impose them will send a strong message to retailers that compliance with the code is not optional," she added.
'Heavy-handed'
The British Retail Consortium (BRC) criticised the measure, saying it did not "suggest the UK is the best place to do business".
BRC director general Stephen Robertson said: "We've long maintained that the power to impose fines is unnecessary and heavy-handed and should be kept in reserve.
"The code already has a provision for 'naming and shaming' retailers - that's a significant sanction and a much fairer system which would deliver better for suppliers, retailers and consumers."
The maximum fine will be set based on recommendations from the first adjudicator once they have been appointed.
The Groceries Code was introduced in 2008 following a Competition Commission report into the relationship between supermarkets and their suppliers.
The Groceries Code Adjudicator Bill is currently passing through Parliament.