OBR 'wouldn't stake reputation on deficit cut'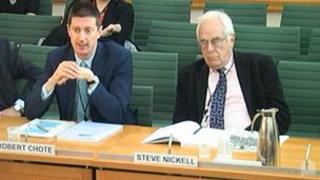 Independent forecasting body the Office for Budget Responsibility (OBR) has said it would be a mistake to put too much weight on its forecast of whether borrowing would rise or fall this year.
Chancellor George Osborne made much of the OBR forecasting that the deficit would fall £1bn this year when many analysts had been expecting it to rise.
OBR chairman Robert Chote said that was ignoring the forecast's uncertainty.
Mr Chote was appearing at the House of Commons' Treasury Committee.
"Putting a lot of weight on a forecast that borrowing is going to fall or indeed rise by £1bn between one year and the next is ignoring the uncertainty," he said.
"The average forecasting error for the budget deficit one year ahead is about £15bn to £16bn, so I think the best conclusion is that borrowing is expected on an underlying basis to be broadly the same this year as it was last year."
Labour MP Andy Love said that was an economist's view and not a politician's.
"Where borrowing is going is exceedingly important at a political level because the government has staked its reputation on reducing borrowing year to year," he said.
Mr Chote replied: "Let's put it this way: I certainly wouldn't be staking my reputation on a £1bn shift in the budget deficit from one year to the next."
He stressed that the figure for the budget deficit, which is the amount the government borrows in a financial year, would probably be revised up or down by considerably more than £1bn long after the year-end at the start of April.
In its latest forecasts published at the time of the Autumn Statement on 5 December, the OBR predicted that the deficit for 2012-13 would be £119.9bn compared with £121.4bn the previous year, when the effects of money from the Bank of England linked to its quantitative easing programme is ignored.
"There are those who have been saying that the deficit was going up this year," Mr Osborne told the House of Commons.
"But any way you present these figures, that is not what the OBR forecasts show today. They say that the deficit is coming down."